Letter from the Executive Chairman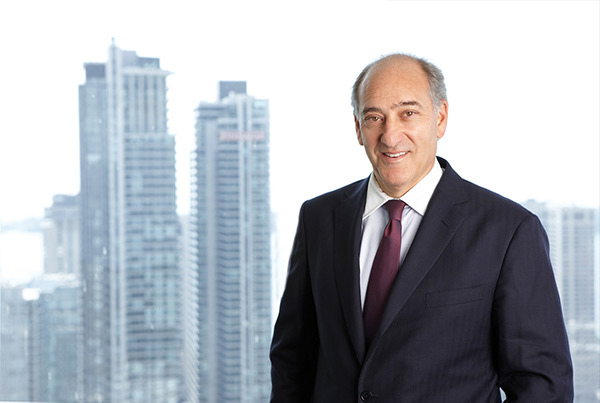 Our fiscal 2019 results reflect excellent progress against a strategy that we implemented just a few years ago, to refocus our business and increase firm-wide shareholder alignment. Because of our ongoing efforts, we have improved our business mix to derive a greater share of earnings from our wealth management businesses. We are also improving product and revenue diversity in our capital markets business, to further enhance the stability and predictability of our earnings in varying market conditions.
Our strategy has been, and will continue to be, centred on building enduring value for our shareholders.
We are committed to returning capital to our shareholders as we balance capital deployment for continued disciplined growth. During fiscal 2019, 1.4 million shares were purchased and cancelled, and we increased the annual dividend payment on our common shares by 33.3% compared to the prior year.
The stability and earnings growth that is being driven by our global wealth management businesses has given us increased confidence in the sustainability and direction of our earnings. On that note, I am pleased to report that our Board of Directors has approved a new dividend policy for the coming fiscal year. Beginning in the first quarter of fiscal 2020, we will eliminate the practice of paying a variable supplemental dividend at the end of each fiscal year and we will instead implement a fixed quarterly dividend payment of at least $0.05 per share, which we hope to increase as we achieve further growth in global wealth management operations.
We also anticipate that share buybacks will continue to be an important feature in our commitment to providing enhanced returns to our shareholders, particularly in periods when our capital markets businesses deliver outsized returns.
Leadership and governance will continue to be critical as we execute the next phase of our growth.
We have a very capable and accountable group of professionals leading our firm today, and we are continually taking steps to position our businesses and employees for a successful future.
Our strong partnership culture has been integral to our ability to increase productivity and grow our market share in key regions and verticals. As we continue to advance our business goals, we are committed to fostering an inclusive work environment where all employees can thrive and feel like they belong. We recognize that we have more work to do if we want to achieve our longer-term diversity goals, but we have made excellent progress embedding this into our firm-wide culture. This has resulted in positive advancements in our talent management processes and in our daily interactions that I am confident will deliver results over the longer term.
We are also committed to ensuring strong corporate governance to support our long-term strategic objectives. As we focus on achieving sustainable growth in the areas where we can add the most value, we will evaluate and adjust our Board composition to reflect our evolving business mix and to represent the best interests of you, our fellow shareholders.
On behalf of the Board of Directors, I would also like to thank the senior management team and all employees of Canaccord Genuity Group Inc. for their relentless commitment and support.
As I reflect on fiscal 2019, I am resolute in my belief that we have the capacity to create additional shareholder value, as we work to continuously improve our financial performance and establish market leadership in the areas where we are strongest.
David Kassie
Executive Chairman
Canaccord Genuity Group Inc.